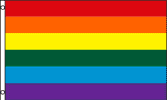 Rainbow Gay Pride Flag

Rainbow Gay Pride Flag $0.45 each; measures 4x6in on 10 inch black staff. These Rainbow Flags are nicely printed in brilliant colors for lasting beauty.

Whether buying our top selling 4"x6" traditional 6 stripe rainbow flag that comes mounted on a staff and made from 100% polyester or needing a larger size flag, we have the LGBT Pride Flags you may need for any event..


Supplying top quality Rainbow Pride Flags since 1989 ...