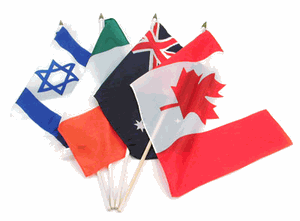 Miniature World Flags
Choose miniature world flags from over 200 countries from $0.99 each below;
Miniature World Flags, Miniature World Flag Sets,
Miniature Blank Flags, Miniature State & Territorial Flags.

These miniature world flags, often called stick flags, desk, and table flags, offer great quality from $0.99 ea,
and are available in the 4"x6" and 12"x18" sizes.
Both sizes come attached to a staff through a sewn sleeve pocket, and are made of 100% polyester !