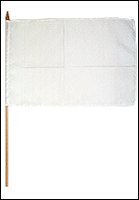 Blank 12x18 Flags
Blank flags, (choose from 15 colors), 12x18 inch flags are made from 100% polyester.
They are attached to a 24" staff through a sewn canvas sleeve.

Blank Flags are available in; white, black, red, pink, orange, green, blue, yellow,
purple, burgandy, and more.

All blank flags are in stock and normally ship within 1 business day ..