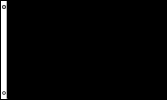 Blank 2'x3' Flags
Buy 2' x 3' blank flags in any of 15 colors from SWI- priced at only $3.99 each. Our flags are available in - white, black, red, pink, orange, green, blue, yellow, purple, burgandy,

Our blank 2'x 3'flags look great as is or are great for customizing and printing should you prefer. These flags are made from 100% polyester, printed in bright colors, and come with 2 groomets for easy attachment.

All 2x3 blank flags are in stock and normally ship within 1 business day ..