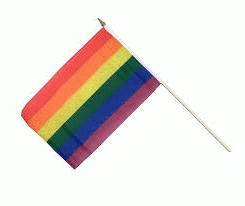 Rainbow Stick Flag
We have in stock the 12" x 18" rainbow stick flags at $1.50 each while they last. Each flag is made of 100% polyester, and comes mounted on a 24" wooden staff with spear point, through sewn sleeve ! They make excellent decorations for special events and rallies.

Our Rainbow Gay Pride Flags offer great quality, are nicely made from 100% polyester fabric in bright brilliant colors for long lasting beauty and are available as shown,


Supplying top quality Rainbow Stick Flags since 1989 ...